Scraper Mountain straddles the Alabama – Georgia border. Extending from Cherokee County, Alabama northeast into Chattooga and Floyd Counties in Georgia. Recent maps may show the name being Bogan Mountain and Bogan Peak instead of Scraper Mountain. After the Cherokee were driven out by the white invasion, a man named George Washington Bogan came to live there. The highest peak on Scraper Mountain is easily less than 2000 feet, so don't expect snow-capped peaks or ski resorts. Some have questioned why mounts of this size like Scraper Mountain in Alabama or Walkingstick Mountain in Oklahoma are called mountains at all. Pike's Peak they are not, but if you live at such a place and walk, or ride a horse or wagon regularly up and down the grades, you soon come to call it a mountain. An old worn down mountain perhaps, but a mountain just the same.
Near the top of Scraper Mountain a rocky cliff faces south. Known as "Rock Fence" due to its resemblance to a wall or fence. In fact it was used to enclose one side of a cattle pasture at one time. In recent years the rock formation was well known for buzzard nests and rattlesnakes. A small cave high in the cliff contains a spring and on the Gaylesville side is a larger cave presently called Danroe's Cave.
The New York Times newspaper reported that a landslide had occurred on the north side of the Scraper Mountain in January of 1886. As the ground gave way, an avalanche of huge boulders and trees began sliding toward the Chattooga River. The horrible roar could be heard for ten miles. The rubble filled the river channel creating a dam that temporarily backed up the Chattooga for several miles. No loss of life was reported.
The people of present day Cherokee County, Alabama have every right to be proud of their heritage, some of them tracing their family lines back several generations to the 1830's when the Indians were driven from the region. Yet perhaps some of them may be humbled to know that Native Americans were known to inhabit the area for 10,000 years prior to being forcibly removed from their homeland during the tragic Trail of Tears. The history of this region is a long and rich history dating back much further than a couple of hundred years. If the rocks could talk, if we could understand the sounds of the Coosa and Chattooga Rivers as they flow past on their way to the Gulf of Mexico, what a tale they could tell.
In 1835 it was reported that 2000 Indians were living in Chattooga District Cherokee Nation East, or Cherokee County, Alabama as the white people called it. Most lived along the Coosa River and Ball Play Creek. Chief Scraper's old cabin was known to be close to what is now known as Lawrence, Alabama. His children were born here, not far from where the Chattooga River emptied into the Coosa River. Both of these rivers were important waterways for the Cherokee people and many Cherokee towns thrived along them. The Coosa could be traveled east to Turnip Town, Haweis Mission, Coosa Town, and Rome, and south to Turkey Town and on into Creek Country. The Chattooga could be traveled northeast to villages such as Chattooga Old Town, Broom Town, and Island Town.
Fort Armstrong was built near Scraper's place in October of 1813. It has been said that the site was a trading post even during Revolutionary War days. General Andrew Jackson used it as a supply base during the Creek War. Both white and Cherokee men were garrisoned at Ft. Armstrong during 1813-1814. Some of the white men from the fort were constant sources of trouble for the Cherokee people. They often stole livestock, horses, corn, and other goods from the Cherokee. Andrew Jackson no doubt knew about these thefts, but did nothing about it. He had no use for Indians except to throw them at his enemies such as the Redstick Creeks or any others who got in his way. Even sadder is the fact that the white people were not only stealing from the Cherokee people. Such was their disdain for the Indians, that they were known to slaughter the livestock of the Cherokee for sport. Who was the more civilized? The whites that for their own amusement murdered, raped, stole, and plundered? Or the Indians who could have fought to the death, but instead endeavored to live in peace? Much of the area along the Coosa River in the vicinity was flooded when Weiss Lake was created by damning the river in 1961. Ft. Armstrong was located on what is now Williamson Island two miles southeast of Cedar Bluff, Alabama
Scraper's brother Sar-lar-wee (Squirrel) lived close by at Broomtown in 1813, and at Island Town in 1838. Sar-lar-wee's son, Little Archie Scraper, was known to live nearby as well (Chattooga Old Town). Little Archie Scraper's wife was a Sewekiller (Fivekiller). The Sewekillers also lived along the Chattooga River Valley near Scraper Mountain.
Sixkiller, another brother of Scraper, lived about 15-16 miles up river near Island Town on the Chattooga River in 1838 (near present day Summerville, Georgia). Should Chief Scraper have chosen to journey to see his brother by water, the canoe trip would have taken 3-4 hours going upstream, and as little as 1-2 hours on the return trip traveling with the current. In 1813 Sixkiller listed his residence as Brooms Town on the Chattoogee River. Brooms Town may have been a collection of homes spread out over many miles in Brooms Town Valley extending from present day Alabama and on into Georgia. The main hub of Old Broomstown was probably in what is now Cherokee County, Alabama, just north of Dirt Seller Mountain. Later the main hub of the town seems to have shifted east up the valley closer to the Chattooga River, in what is now Chattooga County, Georgia.
Scraper's brother-in-law, the great warrior and Chief, Archilla Smith, had a beautiful fancy 2-story home complete with balcony along the Coosa River near Rome, Georgia, about 17 miles east of Scraper Mountain. This 2-story home may have previously belonged to Smith's father, Cabin Smith, as Archilla did claim a place on the Coosa River which had previously belonged to his father while at the same time having a 'home place' on the Oostanaula River. When he was driven out by the white invasion, Archilla moved to the Chattooga River Valley in the region between Scraper Mountain and Island Town. Sixkiller and Scraper had both married sisters of Archilla, the former marrying Gu-er-tsa Smith, and the latter marrying Tiana Smith, both daughters of Chief Cabin Smith and Cabin's wife, Jennie of the Paint Clan. Other sons of Cabin Smith included Smoke Smith, who lived near his brother-in-law, Sixkiller, at Island Town, and Hominy Smith, who lived along the Chattooga River. Go-li-si Smith, daughter of Cabin, married Little Turtle and they also lived close by at Chattooga Old Town. Another daughter, Oo-du-ski Smith, married Big Tiger and lived on Chickamauga Creek.
Chief Cabin Smith lived his last years about 12-13 miles east of Scraper Mountain, just east of the Coosa settlement. His cabin is believed to have been located close to where two creeks came together. The creeks are named Cabin Creek and Smith Creek in his honor. Once joined, the two creeks become Cabin Smith Creek, which flows southward just east of the Central Georgia Railway track on it's way to join the Coosa River.
In 1819 Cabin Smith had lived in Tennessee at the Ft. Loudon site on the Little Tennessee River near Tellico River and Nine Mile Creek. He received a reservation of 640 acres as a signer of the 1819 Treaty. The Cherokee signing this treaty agreed to become citizens of the United States and give up title to any lands in Tennessee. His reservation was adjacent to the remnants of old Ft. Loudon and his ferry was located where the public road crossed the Little Tennessee River, making it a very profitable enterprise. Nearby were the Cherokee towns, Tuskeegee, where Sequoyah was born, and Chota, capitol or principal town of the Cherokee. Nation.
In the late 1700's Cabin Smith was Principal Chief of Island Town, a very large town near Summerville, GA in Chattooga County. Island Town was located about 11 or 12 miles north of his final home near Coosa. The smallpox that was introduced by the whites nearly wiped out all the Cherokee living at Island Town. Though Chief Cabin Smith survived, the pain and suffering there must have been unbearable. It must have greatly affected his confidence in his abilities to govern and protect his people as they died in mass while he watched helplessly. He would have used all his knowledge and every resource at his command. Every root, herb, or tree bark, every tea or salve, in attempts to save his people. Despite his efforts, only the very strongest lived through the epidemic. Some have said that white people deliberately spread the smallpox virus to the Indians via blankets and other trade goods. It is difficult to imagine that they so hated and feared the Native Americans, or that their desire for land was so great, that they could have done this thing. This was probably not the first time humankind used germ warfare, and would not be the last time. This evil plague, or 'White man's body fire,' as the Indians called the smallpox (due to the high fever), took millions of Indian lives in North, South, and Central America. Even in his youth, Big Cabin Smith would have heard his elders talk of this dark evil occasionally racing through the lands of his people. Yet when he became a leader of his people, there was nothing at his disposal to help them overcome this infection. He could do little but watch death carry his people away.

Haweis Mission, where Cabin Smith converted to Christianity, was located about 3 miles west of his place when he lived near Coosa. Although the old Chief had long opposed the Christian movement of the missionaries within his tribe, because he believed that it, or the contact with whites in general was gradually eroding the Cherokee culture and causing them to become more greedy and uncivilized like the white people. Dr. Elizur Butler had performed a small surgical procedure on the Chief greatly relieving his pain. The success of the surgery may have been what finally pushed Cabin Smith into having faith in Dr. Butler and Christianity. In 1831, at 80 years of age, he was baptized by Dr. Butler. After his death, his widow Jennie was known to have lived on the southeast side of the Coosa River.

Places of interest close to Scraper Mountain include Turkey Town where Chief John Ross was born, and Wills Valley Mission. Some of the Scraper children attended school at Albany Missionary Station at Wills Valley under William Chamberlain.

Chief Pathkiller lived near Turkey Town where he operated a ferry on the Coosa River. He died in 1828 and was buried at the little cemetery on his place. A white man named John Garrett was trying to steal Pathkiller's land even before the old chief died. Garrett was the Probate Judge of the county and was an influential man. Pathkiller Ferry later became known as Garrett Ferry, and the Pathkiller Burial Ground became Garrett Cemetery. The cemetery, at present day Centre, Alabama, contains the Chief's grave marker. It proclaims, "Chief Pathkiller 1764-1828 known as the Last of the Cherokee Kings". The footstone reads, "Powerful, Intellectual and Progressive". A marker for Chief Pathkiller was also placed at New Echota, Georgia. The one at New Echota was born in 1742 and may have been the father or uncle of the Pathkiller buried at Turkey Town. The will of Peggy Pathkiller, likely the widow of Chief Pathkiller, was executed Jan 13th 1829 at Pathkiller's Ferry on the Coosa. The heirs named are: oldest daughter-Nancy; daughter-Nelly; grandson-Crying Snake; grandson-Eyoostee; sister's daughter-Queeluoo; daughter-Quatee; daughter-Charwahyooca; and youngest daughter-Janny.Upon the death of Chief Pathkiller, Major Ridge, whose son John, witnessed the above mentioned will, bought the estate including the ferry and farm. Many leading men of the Cherokee Nation East were known to meet and talk of affairs in this area. As the whites crowded in and were forcing the Cherokee from their homes, local legend tells that some Indians begged to stay. They traded a large pot of gold in exchange for being allowed to live out their remaining years in peace at their old homes.

During the 1850's prospectors were checking rocks at Dirt Seller Mountain, Scrapers Mountain, and Round Mountain for iron ore content. The red hematite was used by the Indians for painting purposes and was therefore referred to as "Indian dye rocks" by the white people who took over occupation of the region. The James Noble family migrated to the area and built the Cornwall Blast Furnace below Scraper Mountain one half mile from the Chattooga River. It was named after their native homeland, Cornwall County England. Many tons of ore were mined in the area and shipped out as pig iron via ox and mule drawn wagons and barges down the Chattooga to the Coosa and on to Rome, Georgia. There was also a grist and flour mill nearby and the Nobles had a foundry and machine shop at Rome.

During the Civil War Confederate cannons and cannon balls along with siege guns, howitzers, and iron for horseshoes, were being produced making the Cornwall furnace and Rome ironworks prime targets of the northern armies. General Wm T. Sherman and 60,000 Union troops arrived and destroyed the furnace operation and all the various tool sheds, barns, the commissary, 100 houses, both the grist mill and flour mill, etc. After the war, the furnace was rebuilt and operated off and on from 1867 to 1875.

A few miles from Scraper Mountain, north of Dirt Seller Mountain and Broom Town Valley is a large spring. The Cherokee name for the spring is unknown, but later inhabitants began calling it Barry Spring after Richard Barry and family who later came to the area. Mr. Barry and his brother-in-law, Eli Alexander, bought the chestnut logs that had been used nearby to construct a concentration camp for incarceration of the Cherokee who were rounded up in preparation for banishing them from their lands forever. Barry and Alexander built houses, barns, and rail fencing with the logs.
The stockade, or removal fort as it was called, was constructed by splitting 20 foot chestnut logs in two and standing them vertically with the bottom few feet buried in the ground for support. This formed an enclosure large enough to imprison several hundred Cherokee men, women, and children. This was one of several forts built to wage war on the Indians. When the Cherokee, at the urging of Chief John Ross, did not fight, the forts were used to confine them and as bases of operation as the white soldiers made daily raids throughout the region.
The big spring, which was said to be bottomless, or possibly the mouth of an underground cavern, provided ample water for the prisoners, yet many perished due to scant rations provided by the U.S. Government, unsanitary living conditions, and probably severe depression, shock, and broken hearts at being treated in such a cruel manner by fellow human beings. The stockade was located a few hundred yards north of the spring. The spring is on the east side of State Route 99 between Ft. Payne, Alabama and Summerville, Georgia. It's clear water flows into nearby Mills Creek which in turn flows past old Broomtown and on to the Chattooga River.

Joe Scraper Jr.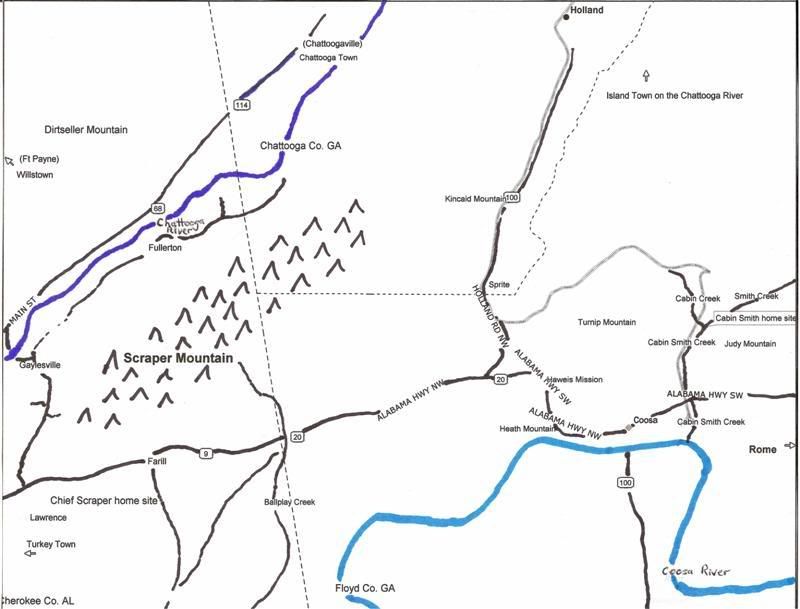 Further Reading: Cherokee County (Alabama) History 1836-1956 Vol 1 by Mrs. Frank Ross Stewart. Cherokee Planters in Georgia 1832-1838 by Don L. Shadburn Cherokee Footprints Volumes I, II, & III by Charles O. Walker